We have a small, family owned farm located in Central Wisconsin. We specialize in raising quality breeding & riding stock to promote the true Rocky Mountain Horse. We are dedicated to preserving what they are most famously known for; a calm disposition and super smooth natural riding gait.
Many people ask us if we raise trail horses or show horses. Our answer is, "we raise Quality Rocky Mountain Horses. You cannot have either if you don't have quality of good temperment, smooth gait and correct conformation. Our trail horses are dual purpose and can go to a show anytime. A rocky to us should be a trail horse that can take years of use on all types of terrain w/ many miles of trails. As well that is athletic enough to peform in a show ring if you so desired.
Our mares are all of top bloodlines. Time is not of importance to us, quality not quantity is our main objective. We have superior breeding in mind with each foal born. We strive to breed for the best possible genetics and traits of the Rocky Mountain horse.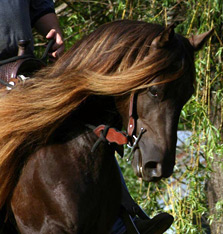 Through many years of hard work, we have compiled a small but elite group of exceptionally well-bred stock. We offer proven trail, Champion parentage, exceptional gait, beauty and conformation all in one.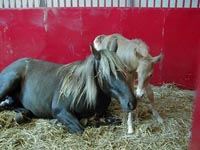 Our foals are all born under our supervision. We have a monitor in place to watch each mare & every foal is imprinted at birth. Our foals are all family raised with alot of TLC! We feed top quality supplement, grain and hay to our bred mares. Each mare is on strongid C, wormed with ivermectin and other paste wormers throughout the year. We have an excellent veterinarian & farrier program as well for all our horses. The same care is given to our foals to ensure excellent growth and health.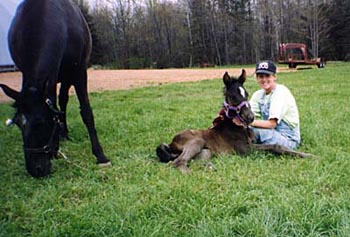 | | |
| --- | --- |
| | |
Our foals hit the gait from day one, pecking off a 4 beat gait right in their stalls, full of straw. Each new one born seems to get cuter than the last. Their baby doll heads and beautiful eyes tell us we must be doing something right to enhance the beauty of the breed. Many of our foals & mares are our trail mounts & champions in the showring. We take great pride in this as we ourselves are just what we call "trail riders". For more detailed information on our mares and foals pedigrees please see our breeding page or call or email for more information.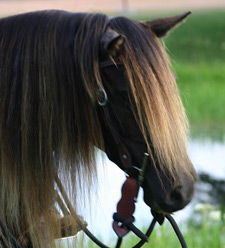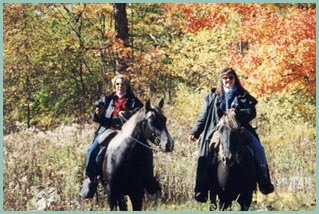 Our main interest has always been doing a lot of trail riding. We get approached often by people at parks, organized rides, and when we pass by others while on our Rocky Mtn. Horses. Our favorite thing besides trail riding is to raise beautiful Rocky Mtn. foals. We love the babies & anxiously await them each season! The biggest problem we have with these horses is selling them. We get so attached that it's hard to let them go!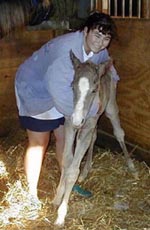 We strive to find good homes for these wonderful horses. It is our hope that more people will someday soon own Rockies. They'll finally be able to enjoy the best ride & trail rides every day!!! We invite visitors to come & see for themselves at our farm. We are dedicated to trying to best suit the horse & rider. It is our mission to aid others in finding safe pleasure horses while helping to educate others about our breed.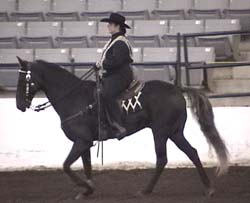 Why is this our goal? Since we are trail riding so often, we see a lot of trail riders. On occasions, more often than not, we see riders bucked off or thrown. We encounter riders walking their horses because either the horse is being unruly or the rider's back is sore from trotting. So we say try a Rocky just once and see for yourself! Their surefooted smooth ride, their phenomenal disposition and willing attitude will show you that trail riding is always a pleasure on a Rocky Mountain Horse!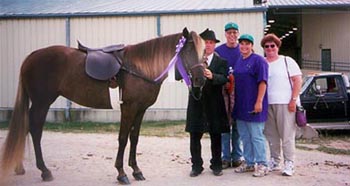 So if your back is sore, if you are tired of fighting with your current mount, if you grow more timid and reluctant to ride each time...before you hang up those boots, give it one more try on a Rocky Mountain Horse! Whether we have a horse to fit your personal needs or not, we love having visitors. To see and ride Rockies up close! We will do our best to find you a horse through a fellow good, honest breeder if we do not have a horse for you!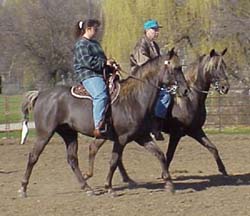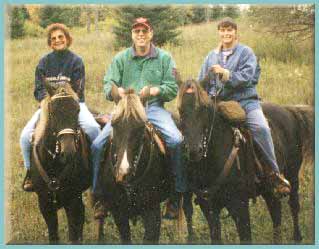 We are a complete facility and we have round the clock supervision of our mares in foaling season. Our barn is equipped with many stalls, automatic waterers and a indoor arena. We take pride in our horses and the care of them.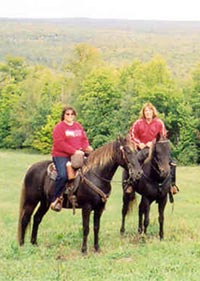 Being we are so dedicated to preserving the Rocky Mountain Horse, when we were made aware that a few Rocky Mountain Horses had visual impairments, we took it upon ourselves to go to the source of this problem to research this thouroughly.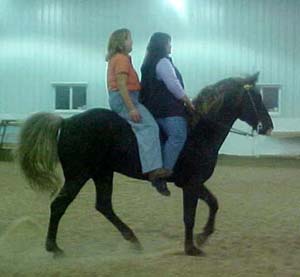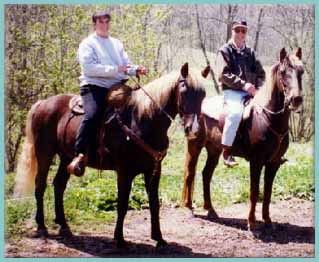 We had our entire herd visually examined by Dr. David Ramsey who works with the Michigan State University. This University started the study for the Rocky Mountain breed. We are confident that we can continue raising quality foals & educate anyone who is not familiar with ASD. Please make sure before you purchase a gaited mountain horse that you have it tested by a certified ophthalmologist for anterior segment disgenesis (ASD). We also want evryone to know that ASD, cysts etc are NOT just a Rocky Mtn. horse thing. We would be happy to send you further information on this. We fully disclose all visual examinations on our breeding stock and horses for sale.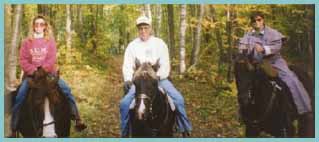 The Rocky Mountain Horse is a wonderful animal that possesses the perfect trail horse qualities and will in years to come. A very small percentage of Rocky Mountain horses have ASD. Please do not let this affect your decision to pursue this wonderful breed. We, along w/ many other breeders, breed selectively and responsibly. The RMHA has taken very responsible measures as well to contain ASD.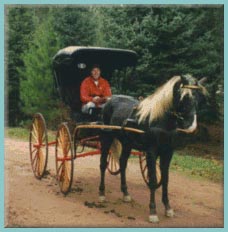 Since the breaking story of ASD in RMHS many findings have come about. We are pleased with the progress that has been made in the research of ASD amongst our association. We have come to find out that most ASD horses see normally by 8 to 12 months of age and that most of our breeders are becoming very responsible. Also ASD is not just a Rocky Mountain horse thing, ASD, cysts, etc, are found in many, many other equine breeds as well. The other misconception is carrier horses given the vocabulary term of cysts. Please know cysts are of NO consequence to the horses vision. Please see the articles attached to our website for more information on ASD.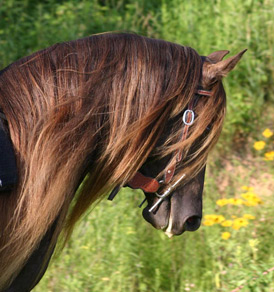 The basic characteristics of the Rocky Mountain horse is to be of medium height(14.2hh to 16hh) with a gentle temperment and a easy ambling, four beat, lateral gait. They should have a wide deep chest, bold eye and well shaped ears. They must have a natural 4 beat lateral gait. and show no signs of pacing or trot. When the horse moves you can count four distinct hoofbeats which produce a cadence of equal rhythm. Each horse has its own individual speed and natural way of going, the average speed of traveling is between 7 and 20 mph. This is a naturally occuring gait and is present from birth that does not require any training aids or action devices. Rockies must be of a good, solid temperment and be easy to handle. All Rocky Mtn horses must be of solid body color. Facial makrings are acceptable so long as they are not excessive. There may not be any white above the knee or hock. THE RMHA has maintained its critical standards with the characteristics above by a panel of Examiners set up by our association. Each horse prior to becoming certified to breed must be videoed and watched/approved by 3 judges or taken to a certification day and viewed /approved by 3 RMHA examiners before he or she recieves authority to breed. If the mare or stallion are not certified to breed prior to breeding the foal resulting will not be eligible for registration. As you can see the RMHA takes their breed very seriously and allows only those that meet their approval to be among the breeding stock. Also all RMHA horses must be DNA typed as well prior to registration for proof of parentage. If you own a Rocky Mtn horse and have questions about certification please contact me as I am a RMHA examiner and would be happy to assist you with any questions and or view your video tape.
More info can be found on the Natural Gait news site.